Recently updated on October 22nd, 2021 at 12:55 pm
The Girls Planet 999 survival show is close to it's finale – the 12th Episode which will be broadcasted live on October 22, 2021.
18 contestants are still in the show: 9 Korean, 5 Chinese and 4 Japanese. The top 9 contestants will be part of Kep1er, the final group.
In the table below you can see the Pre-Finale Interim Rankings. The picture is from the Girls Planet 999 sub-reddit. You can vote your favorite contestant on the Universe app.
| Final Rank | Interim Rank | Name | Korean Name | Group | Company | Country | D.O.B | Year | Height | Weight | MBTI |
| --- | --- | --- | --- | --- | --- | --- | --- | --- | --- | --- | --- |
| 1 | 1 | Kim Chaehyun | 김채현 | Unicorn | Individual | South Korea | 2002-04-26 | 2002 | 160 | | ESFP |
| 3 | 2 | Choi Yujin | 최유진 | POP! Corn | Cube | South Korea | 1996-08-12 | 1996 | 162 | 45 | ENFP |
| 4 | 3 | Kim Dayeon | 김다연 | Medusa | Individual | South Korea | 2003-03-02 | 2003 | 158 | 41 | ESTP |
| 5 | 4 | Seo Youngeun | 서영은 | 7 LOVE Minutes | Individual | South Korea | 2004-12-27 | 2004 | 159 | | ENTJ |
| 2 | 5 | Huening Bahiyyih | 휴닝바히에 | POP! Corn | Individual | USA | 2004-07-27 | 2004 | 166 | | ESFJ |
| 6 | 6 | Kang Yeseo | 강예서 | Unicorn | 143 | South Korea | 2005-08-22 | 2005 | 157 | 42 | ENFJ |
| 10 | 7 | Kim Suyeon | 김수연 | 7 LOVE Minutes | Mystic Story | South Korea | 2003-01-28 | 2003 | 162 | | ENFP |
| 11 | 8 | Guinn Myah | 귄마야 | POP! Corn | TOP Media | South Korea | 2006-06-19 | 2006 | 159 | | ENFP |
| 13 | 9 | Su Rui Qi | 수루이치 | Medusa | ETM Skies | China | 2000-08-20 | 2000 | 165 | 47 | ENTJ |
| 12 | 10 | Fu Ya Ning | 푸야닝 | Medusa | Gramarie | China | 1997-07-14 | 1997 | 167 | | ENTJ |
| 15 | 11 | Kim Bora | 김보라 | Unicorn | FNC | South Korea | 1999-03-03 | 1999 | 158 | 42 | INFP |
| 7 | 12 | Ezaki Hikaru | 에자키 히카루 | Medusa | Avex | Japan | 2004-03-12 | 2004 | 155 | | ESFJ |
| 14 | 13 | Kawaguchi Yurina | 카와구치 유리나 | Unicorn | Oscar Promotion | Japan | 1999-06-19 | 1999 | 165 | | ESFJ |
| 8 | 14 | Sakamoto Mashiro | 사카모토 마시로 | 7 LOVE Minutes | 143 Entertainment | Japan | 1999-12-16 | 1999 | 157 | | INFP |
| 16 | 15 | Nonaka Shana | 노나카 샤나 | 7 LOVE Minutes | MLD Entertainment | Japan | 2003-03-13 | 2003 | 158 | | ENFP |
| 9 | 16 | Shen Xiao Ting | 션샤오팅 | Medusa | Top Class | China | 1999-11-12 | 1999 | 168 | 45 | ISFJ |
| 17 | 17 | Wen Zhe | 원저 | Medusa | Star Master | China | 1997-08-28 | 1997 | 167 | | ENFJ |
| 18 | 18 | Huang Xing Qiao | 황씽치아오 | Unicorn | Jaywalk Newjoy | China | 1999-01-03 | 1999 | 168 | | INFP |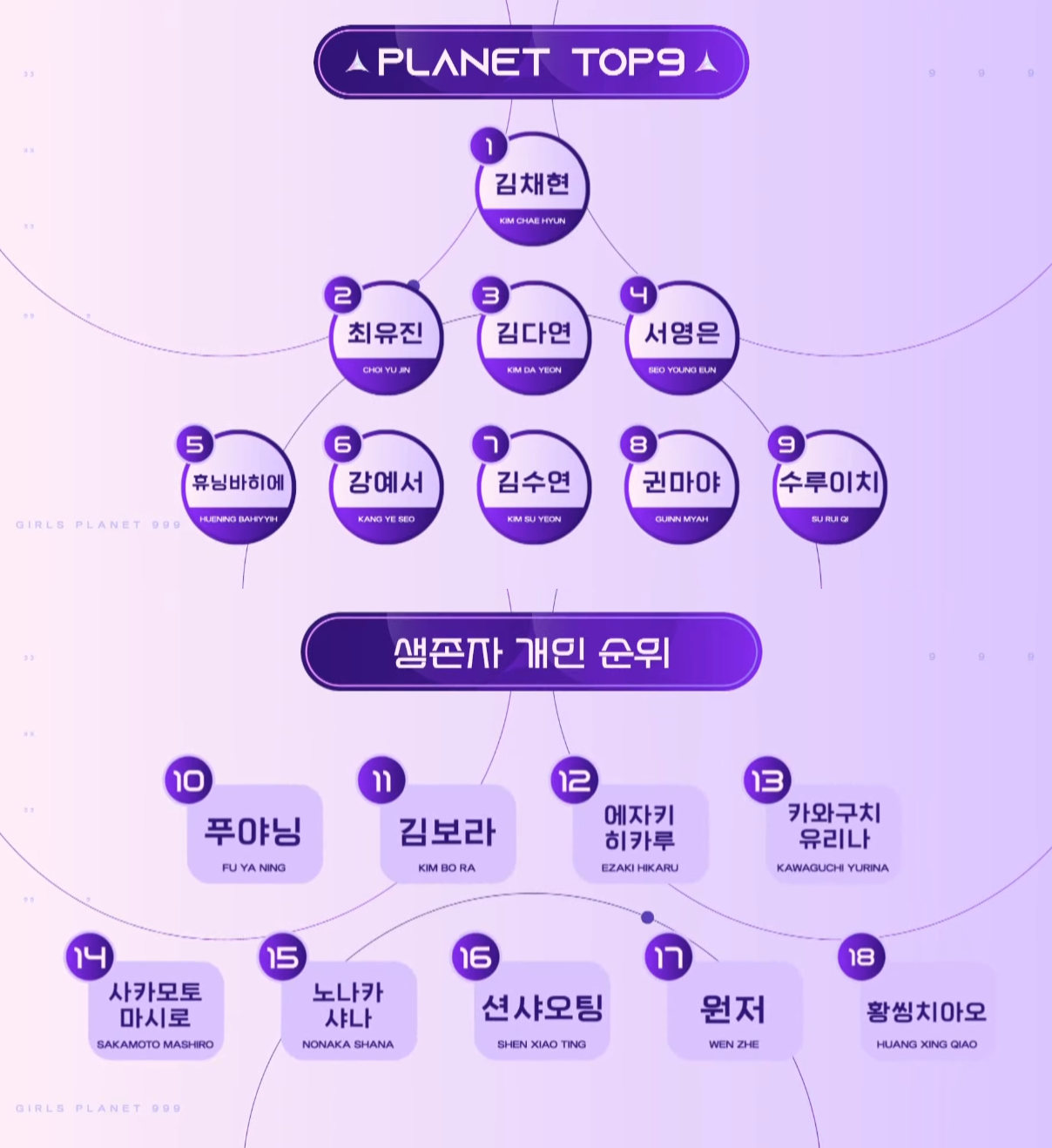 Monday, October 18, 2021 17:00