Recently updated on February 28th, 2021 at 02:03 pm
Usually a K-Pop music video can be uploaded on YouTube in different channels – one upload is usually in the group's or company's channel, and another one in a distribution channel.
For example, CLC's Devil MV has been uploaded both in CLC's Channel, and 1thek's Channel.
Sometimes the distribution deals change or end, and you can see channels like 1thek uploading old MVs of a group, like 4minute's Muzik which was uploaded to 1thek's channel on January 22, 2019 – the original MV was uploaded on Youtube in April 2, 2010 and the song's release date is August 31, 2009. This MV was only available until then in a 360p resolotuion, and we got the HD version more than 10 years later.
In the table below you can see around 300 groups and which one is their distributor.
Company means the company's channel (like SM, JYPE and Big Hit), and Group means that they only upload the MV on their own channel.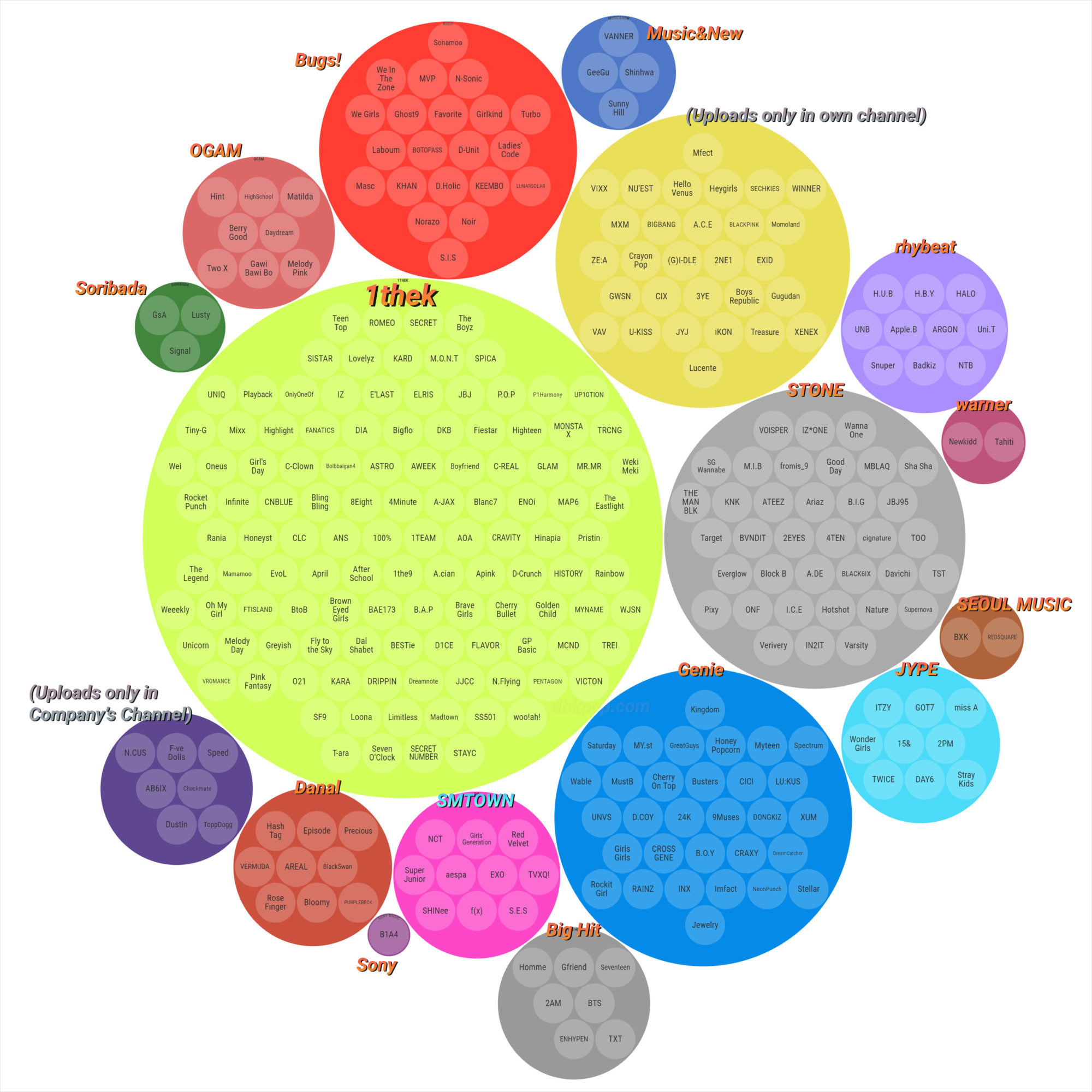 As you can see, around half of the groups have or had 1thek as their distributor.
Distribution Channels Count
| wdt_ID | Channel | Now | Before | Total | Percent Before + Now |
| --- | --- | --- | --- | --- | --- |
| 1 | 1thek | 117 | 35 | 152 | 50 |
| 2 | Stone | 36 | 6 | 42 | 14 |
| 3 | Genie | 31 | 2 | 33 | 11 |
| 4 | Group | 29 | 0 | 29 | 10 |
| 5 | Bugs! | 21 | 3 | 24 | 8 |
| 6 | rhybeat | 10 | 3 | 13 | 4 |
| 7 | SM | 10 | 0 | 10 | 3 |
| 8 | JYPE | 9 | 0 | 9 | 3 |
| 9 | Danal | 9 | 0 | 9 | 3 |
| 10 | OGAM | 8 | 0 | 8 | 3 |
| 11 | Big Hit | 7 | 0 | 7 | 2 |
| 12 | Company | 7 | 0 | 7 | 2 |
| 13 | Music&New | 4 | 0 | 4 | 1 |
| 14 | Soribada | 3 | 1 | 4 | 1 |
| 15 | Warner | 2 | 0 | 2 | 1 |
| 16 | Seoul Music | 2 | 0 | 2 | 1 |
| 17 | Sony Music | 1 | 0 | 1 | 0 |
| Name | Company | Type | Active | Channel | Old |
| --- | --- | --- | --- | --- | --- |
| 100% | TOP Media | Boy | Yes | 1thek | |
| 1TEAM | LiveWorks | Boy | Yes | 1thek | |
| 1the9 | MBK | Boy | Yes | 1thek | |
| 8Eight | Big Hit | Boy | No | 1thek | |
| A.cian | Wings | Boy | No | 1thek | |
| ASTRO | Fantagio | Boy | Yes | 1thek | rhybeat |
| AWEEK | Illusion | Boy | Yes | 1thek | |
| B.A.P | TS | Boy | No | 1thek | |
| BAE173 | PocketDol | Boy | Yes | 1thek | |
| Bigflo | HO | Boy | Yes | 1thek | |
| Blanc7 | Jackpot | Boy | No | 1thek | |
| Boyfriend | Starship | Boy | No | 1thek | |
| BtoB | Cube | Boy | Yes | 1thek | |
| C-Clown | Yedang | Boy | No | 1thek | |
| CNBLUE | FNC | Boy | Yes | 1thek | |
| CRAVITY | Starship | Boy | Yes | 1thek | |
| D-Crunch | All-S | Boy | Yes | 1thek | Genie |
| D1CE | Happyface | Boy | Yes | 1thek | |
| DKB | Brave | Boy | Yes | 1thek | |
| DRIPPIN | Woollim | Boy | Yes | 1thek | |
| E'LAST | E Entertainment | Boy | Yes | 1thek | |
| ENOi | KITHEWHALE | Boy | Yes | 1thek | |
| Fly to the Sky | SM, H2 | Boy | Yes | 1thek | |
| FTISLAND | FNC | Boy | Yes | 1thek | |
| Golden Child | Woollim | Boy | Yes | 1thek | |
| Highlight | Around Us | Boy | Yes | 1thek | |
| HISTORY | LOEN | Boy | No | 1thek | |
| Honeyst | FNC | Boy | Yes | 1thek | |
| Infinite | Woollim | Boy | Yes | 1thek | Stone |
| IZ | Music K | Boy | Yes | 1thek | |
| JBJ | Fave | Boy | No | 1thek | |
| JJCC | Jackie Chan Group | Boy | Yes | 1thek | |
| Limitless | ONO | Boy | Yes | 1thek | |
| M.O.N.T | FM | Boy | Yes | 1thek | |
| Madtown | GNI | Boy | No | 1thek | |
| MAP6 | DreamT | Boy | Yes | 1thek | |
| MCND | TOP Media | Boy | Yes | 1thek | |
| MONSTA X | Starship | Boy | Yes | 1thek | |
| MR.MR | WinningIn | Boy | Yes | 1thek | |
| MYNAME | H2 | Boy | Yes | 1thek | |
| N.Flying | FNC | Boy | Yes | 1thek | |
| Oneus | RBW | Boy | Yes | 1thek | |
| OnlyOneOf | RSVP | Boy | Yes | 1thek | |
| P1Harmony | FNC | Boy | Yes | 1thek | |
| PENTAGON | Cube | Boy | Yes | 1thek | |
| ROMEO | CT | Boy | Yes | 1thek | |
| Seven O'Clock | Staro, KDH | Boy | Yes | 1thek | Genie |
| SF9 | FNC | Boy | Yes | 1thek | |
| SS501 | DSP, CI | Boy | No | 1thek | |
| Teen Top | TOP Media | Boy | Yes | 1thek | |
| The Boyz | Cre.Ker | Boy | Yes | 1thek | |
| The Eastlight | MediaLine | Boy | No | 1thek | |
| The Legend | SS | Boy | No | 1thek | |
| TRCNG | TS | Boy | Yes | 1thek | |
| TREI | Banana | Boy | No | 1thek | |
| UNIQ | Yuehua | Boy | Yes | 1thek | |
| UP10TION | TOP Media | Boy | Yes | 1thek | |
| VICTON | Plan A | Boy | Yes | 1thek | |
| VROMANCE | RBW | Boy | Yes | 1thek | |
| Wei | OUI | Boy | Yes | 1thek | |
| 4Minute | Cube | Girl | No | 1thek | |
| After School | Pledis | Girl | No | 1thek | |
| ANS | ANS | Girl | No | 1thek | |
| AOA | FNC | Girl | Yes | 1thek | |
| Apink | Plan A | Girl | Yes | 1thek | |
| April | DSP | Girl | Yes | 1thek | |
| BESTie | YNB | Girl | No | 1thek | |
| Bling Bling | Major9 | Girl | Yes | 1thek | |
| Bolbbalgan4 | Shofar | Girl | Yes | 1thek | |
| Brave Girls | Brave | Girl | Yes | 1thek | |
| Brown Eyed Girls | Mystic | Girl | Yes | 1thek | |
| C-REAL | NAP | Girl | No | 1thek | |
| Cherry Bullet | FNC | Girl | Yes | 1thek | |
| CLC | Cube | Girl | Yes | 1thek | |
| Dal Shabet | Happy Face | Girl | Hiatus | 1thek | |
| DIA | MBK | Girl | Yes | 1thek | |
| Dreamnote | iME | Girl | Yes | 1thek | |
| ELRIS | Hunus | Girl | Yes | 1thek | |
| EvoL | Stardom | Girl | No | 1thek | |
| FANATICS | FENT | Girl | Yes | 1thek | |
| Fiestar | LOEN | Girl | No | 1thek | |
| FLAVOR | FENT | Girl | Yes | 1thek | |
| Girl's Day | DreamT | Girl | Hiatus | 1thek | |
| GLAM | Big Hit | Girl | No | 1thek | |
| GP Basic | Jacyhan | Girl | No | 1thek | |
| Greyish | Elijah | Girl | Yes | 1thek | |
| Highteen | Elijah | Girl | Yes | 1thek | |
| Hinapia | Alseulbit | Girl | No | 1thek | |
| KARA | DSP | Girl | No | 1thek | |
| Loona | Blockberry | Girl | Yes | 1thek | |
| Lovelyz | Woollim | Girl | Yes | 1thek | |
| Mamamoo | RBW | Girl | Yes | 1thek | |
| Melody Day | Cre.Ker | Girl | No | 1thek | |
| Mixx | Chiko | Girl | No | 1thek | |
| O21 | Houxiu | Girl | No | 1thek | |
| Oh My Girl | WM | Girl | Yes | 1thek | |
| P.O.P | DWM | Girl | No | 1thek | |
| Pink Fantasy | My Doll | Girl | Yes | 1thek | |
| Playback | Coridel | Girl | Yes | 1thek | Stone |
| Pristin | Pledis | Girl | No | 1thek | |
| Rainbow | DSP | Girl | No | 1thek | |
| Rania | DR | Girl | No | 1thek | |
| Rocket Punch | Woollim | Girl | Yes | 1thek | |
| SECRET | TS | Girl | No | 1thek | |
| SECRET NUMBER | Vine | Girl | Yes | 1thek | |
| SISTAR | Starship | Girl | No | 1thek | |
| SPICA | CJ E&M | Girl | No | 1thek | |
| STAYC | Hi-Up | Girl | Yes | 1thek | |
| T-ara | MBK | Girl | Hiatus | 1thek | |
| Tiny-G | GNG | Girl | No | 1thek | |
| Unicorn | Cartoon Blue | Girl | No | 1thek | |
| Weeekly | Play M | Girl | Yes | 1thek | |
| Weki Meki | Fantagio | Girl | Yes | 1thek | rhybeat |
| WJSN | Starship | Girl | Yes | 1thek | |
| woo!ah! | NV | Girl | Yes | 1thek | |
| KARD | | Co-ed | | 1thek | |
| A-JAX | DSP | Boy | No | 1thek | |
| 2AM | JYP, Big Hit | Boy | No | Big Hit | |
| BTS | Big Hit | Boy | Yes | Big Hit | 1thek |
| ENHYPEN | Be:lift | Boy | Yes | Big Hit | |
| Homme | Big Hit | Boy | No | Big Hit | |
| Seventeen | Pledis | Boy | Yes | Big Hit | 1thek |
| TXT | Big Hit | Boy | Yes | Big Hit | |
| Gfriend | Source | Girl | Yes | Big Hit | 1thek |
| Ghost9 | Maroo | Boy | Yes | Bugs! | |
| Masc | JJ Holic | Boy | Yes | Bugs! | 1thek |
| MVP | PH | Boy | Yes | Bugs! | |
| N-Sonic | C2K | Boy | No | Bugs! | 1thek |
| Noir | LUK | Boy | Yes | Bugs! | |
| Turbo | MBK, Turbo Co. | Boy | Hiatus | Bugs! | |
| We In The Zone | Choon | Boy | No | Bugs! | |
| Norazo | | | | Bugs! | |
| BOTOPASS | WKS ENE | Girl | Yes | Bugs! | |
| D-Unit | D-Business | Girl | No | Bugs! | |
| D.Holic | H.Mate | Girl | No | Bugs! | |
| Favorite | Astory | Girl | Yes | Bugs! | 1thek |
| Girlkind | Nextlevel | Girl | Yes | Bugs! | |
| KEEMBO | ARA-LINE | Girl | Yes | Bugs! | |
| KHAN | Maroo | Girl | No | Bugs! | |
| Laboum | NH | Girl | Yes | Bugs! | rhybeat |
| Ladies' Code | Polaris | Girl | Hiatus | Bugs! | 1thek |
| LUNARSOLAR | J Planet | Girl | Yes | Bugs! | |
| S.I.S | Double X | Girl | Yes | Bugs! | |
| Sonamoo | TS | Girl | Yes | Bugs! | 1thek |
| We Girls | Afternoon | Girl | Yes | Bugs! | Soribada |
| AB6IX | Brand New | Boy | Yes | Company | |
| Dustin | LPA | Boy | Yes | Company | |
| N.CUS | Kyuri | Boy | Yes | Company | |
| Speed | MBK | Boy | No | Company | 1thek |
| ToppDogg | Stardom, Hunus | Boy | No | Company | |
| F-ve Dolls | MBK | Girl | No | Company | 1thek |
| Checkmate | | Co-ed | | Company | |
| VERMUDA | JJJ | Boy | Yes | Danal | |
| AREAL | JZ Factory | Girl | Yes | Danal | |
| BlackSwan | DR | Girl | Yes | Danal | |
| Bloomy | DS | Girl | Yes | Danal | |
| Episode | Pops | Girl | Yes | Danal | |
| Hash Tag | LUK | Girl | Yes | Danal | |
| Precious | Umi | Girl | Yes | Danal | |
| PURPLEBECK | Majesty | Girl | Yes | Danal | |
| Rose Finger | YC:Bros | Girl | No | Danal | |
| 24K | Choeun | Boy | Yes | Genie | 1thek |
| B.O.Y | Music Works | Boy | Yes | Genie | |
| CICI | UPVOTE | Boy | No | Genie | |
| CROSS GENE | Amuse | Boy | Yes | Genie | 1thek |
| D.COY | Rolling | Boy | Yes | Genie | |
| DONGKIZ | Dongyo | Boy | Yes | Genie | Bugs! |
| GreatGuys | DNA | Boy | Yes | Genie | |
| Imfact | Star Empire | Boy | Yes | Genie | |
| INX | NA | Boy | No | Genie | |
| LU:KUS | JWK | Boy | Yes | Genie | 1thek |
| MustB | MustM | Boy | Yes | Genie | Stone |
| MY.st | MYStar | Boy | Yes | Genie | |
| Myteen | The Music Works | Boy | No | Genie | |
| RAINZ | (Genie) | Boy | No | Genie | |
| Spectrum | WYNN | Boy | No | Genie | |
| UNVS | CHITWN | Boy | Yes | Genie | |
| 9Muses | Star Empire | Girl | No | Genie | 1thek |
| Busters | JTG | Girl | Yes | Genie | |
| Cherry On Top | United | Girl | No | Genie | Bugs! |
| CRAXY | SAITEINMENT | Girl | Yes | Genie | |
| DreamCatcher | Happy Face | Girl | Yes | Genie | 1thek |
| Girls Girls | H Brothers | Girl | No | Genie | |
| Honey Popcorn | Kyun Create | Girl | Yes | Genie | 1thek |
| Jewelry | Star Empire | Girl | No | Genie | |
| NeonPunch | A100 | Girl | No | Genie | |
| Rockit Girl | Rolling | Girl | Yes | Genie | |
| Saturday | SD | Girl | Yes | Genie | 1thek |
| Stellar | Pascal | Girl | No | Genie | Stone |
| Wable | Kiwi | Girl | Yes | Genie | Stone |
| XUM | A100 | Girl | Yes | Genie | |
| Kingdom | | | Yes | Genie | |
| A.C.E | Beat | Boy | Yes | Group | |
| BIGBANG | YG | Boy | Yes | Group | |
| Boys Republic | Happy Tribe, Universal | Boy | Hiatus | Group | |
| CIX | C9 | Boy | Yes | Group | |
| iKON | YG | Boy | Yes | Group | |
| JYJ | C-JeS | Boy | Yes | Group | |
| Lucente | NOGA | Boy | Yes | Group | |
| Mfect | Midas | Boy | Yes | Group | |
| MXM | Brand New | Boy | Yes | Group | |
| NU'EST | Pledis | Boy | Yes | Group | 1thek |
| SECHKIES | DSP, YG | Boy | Yes | Group | |
| Treasure | YG | Boy | Yes | Group | |
| U-KISS | NH Media | Boy | Yes | Group | 1thek |
| VAV | A team | Boy | Yes | Group | Stone |
| VIXX | Jellyfish | Boy | Yes | Group | |
| WINNER | YG | Boy | Yes | Group | |
| XENEX | GiEok | Boy | Yes | Group | |
| ZE:A | Star Empire | Boy | Hiatus | Group | |
| (G)I-DLE | Cube | Girl | Yes | Group | 1thek |
| 2NE1 | YG | Girl | No | Group | |
| 3YE | GH | Girl | Yes | Group | 1thek |
| BLACKPINK | YG | Girl | Yes | Group | |
| Crayon Pop | Chrome | Girl | No | Group | |
| EXID | Yedang | Girl | Yes | Group | 1thek |
| Gugudan | Jellyfish | Girl | No | Group | |
| GWSN | Kiwi Pop | Girl | Yes | Group | 1thek |
| Hello Venus | Fantagio | Girl | No | Group | |
| Heygirls | Moai | Girl | Yes | Group | |
| Momoland | Double Kick | Girl | Yes | Group | 1thek |
| 2PM | JYP | Boy | Yes | JYPE | |
| DAY6 | JYP | Boy | Yes | JYPE | |
| GOT7 | JYP | Boy | Yes | JYPE | |
| Stray Kids | JYP | Boy | Yes | JYPE | |
| 15& | JYP | Girl | No | JYPE | |
| ITZY | JYP | Girl | Yes | JYPE | |
| miss A | JYP | Girl | No | JYPE | |
| TWICE | JYP | Girl | Yes | JYPE | |
| Wonder Girls | JYP | Girl | No | JYPE | |
| Shinhwa | SM, Good, Shinhwa | Boy | Yes | Music&New | |
| VANNER | VT | Boy | Yes | Music&New | |
| GeeGu | NOS | Girl | No | Music&New | |
| Sunny Hill | Nega | Girl | No | Music&New | 1thek |
| Berry Good | Asia Bridge | Girl | Yes | OGAM | |
| Gawi Bawi Bo | LOUDers | Girl | Yes | OGAM | |
| HighSchool | Richworld | Girl | Yes | OGAM | |
| Hint | Starpro | Girl | Yes | OGAM | |
| Matilda | Box | Girl | No | OGAM | 1thek |
| Melody Pink | KD | Girl | Yes | OGAM | |
| Two X | J. Tune | Girl | No | OGAM | |
| Daydream | | Girl | | OGAM | |
| ARGON | MSH | Boy | Yes | rhybeat | |
| H.B.Y | Rainbow | Boy | Yes | rhybeat | |
| HALO | Histar | Boy | Yes | rhybeat | |
| NTB | High Choice | Boy | Yes | rhybeat | |
| Snuper | Widmay | Boy | Yes | rhybeat | 1thek |
| UNB | Unit Culture | Boy | No | rhybeat | |
| Apple.B | GH | Girl | No | rhybeat | |
| Badkiz | Zoo | Girl | No | rhybeat | Bugs! |
| H.U.B | New Planet | Girl | No | rhybeat | |
| Uni.T | Unit Culture | Girl | No | rhybeat | |
| BXK | New Planet | Boy | Yes | Seoul Music | |
| REDSQUARE | About | Girl | Yes | Seoul Music | |
| EXO | SM | Boy | Yes | SM | |
| NCT | SM | Boy | Yes | SM | |
| SHINee | SM | Boy | Yes | SM | |
| Super Junior | SM | Boy | Yes | SM | |
| TVXQ! | SM | Boy | Yes | SM | |
| aespa | SM | Girl | Yes | SM | |
| f(x) | SM | Girl | No | SM | |
| Girls' Generation | SM | Girl | Yes | SM | |
| Red Velvet | SM | Girl | Yes | SM | |
| S.E.S | SM | Girl | No | SM | |
| B1A4 | WM | Boy | Yes | Sony Music | 1thek |
| Signal | J-Star | Boy | Yes | Soribada | |
| GsA | Roots | Girl | Yes | Soribada | |
| Lusty | babaplay | Girl | Yes | Soribada | |
| ATEEZ | KQ | Boy | Yes | Stone | |
| B.I.G | GH | Boy | Yes | Stone | 1thek |
| BLACK6IX | BLACK HOLE | Boy | Yes | Stone | |
| Block B | KQ | Boy | Yes | Stone | 1thek |
| Hotshot | Star Crew | Boy | Yes | Stone | 1thek |
| IN2IT | MMO | Boy | Yes | Stone | |
| JBJ95 | Hunus | Boy | Yes | Stone | |
| KNK | YNB | Boy | Yes | Stone | |
| M.I.B | Jungle | Boy | No | Stone | |
| MBLAQ | J. Tune | Boy | Yes | Stone | |
| ONF | WM | Boy | Yes | Stone | |
| SG Wannabe | B2M | Boy | Yes | Stone | |
| Supernova | CJ E&M | Boy | Yes | Stone | |
| Target | TNS | Boy | Yes | Stone | |
| THE MAN BLK | Stardium | Boy | Yes | Stone | |
| TOO | n.CH | Boy | Yes | Stone | |
| TST | JSL | Boy | Yes | Stone | 1thek |
| Varsity | GKC | Boy | Yes | Stone | |
| Verivery | Jellyfish | Boy | Yes | Stone | |
| VOISPER | Evermore | Boy | Yes | Stone | 1thek |
| Wanna One | YMC | Boy | No | Stone | |
| 2EYES | SidusHQ | Girl | No | Stone | 1thek |
| 4TEN | Jungle | Girl | No | Stone | |
| A.DE | 2ABLE | Girl | No | Stone | |
| Ariaz | Rising Star | Girl | Yes | Stone | |
| BVNDIT | MNH | Girl | Yes | Stone | |
| cignature | C9 | Girl | Yes | Stone | |
| Davichi | CJ E&M | Girl | Yes | Stone | 1thek |
| Everglow | Yuehua | Girl | Yes | Stone | |
| fromis_9 | Off The Record | Girl | Yes | Stone | |
| Good Day | C9 | Girl | No | Stone | |
| I.C.E | HS | Girl | Yes | Stone | |
| IZ*ONE | Off The Record | Girl | Yes | Stone | |
| Nature | n.CH | Girl | Yes | Stone | |
| Sha Sha | Major Ent | Girl | No | Stone | |
| Pixy | | Girl | | Stone | |
| Newkidd | J-FLO | Boy | Yes | Warner | |
| Tahiti | J-line | Girl | No | Warner | |
Wednesday, February 24, 2021 17:51